President's Message 2016
20/05/2016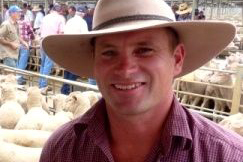 Investing in our own industry and its future sustainability pays enormous dividends for us all.
While that may sound like a 'motherhood statement', as we approach the 139th Australian Sheep & Wool Show it is timely to consider the importance of what it means.
It is easy to become caught up in the sheer volume of work required to keep our internationally significant event at the forefront and growing. It is equally comfortable to say that just maintaining the status quo would be enough, given that we have seen records broken across the board year after year.
But, sheep breeders strive for more than that. When you consider that our event has become the largest of its kind in the world and Australia's epicenter to showcase the best of the best in food and fibre innovation, then yes, we can pat ourselves on the back.
However, along with the self-congratulations goes the reality that over those years and today, it is a volunteer committee drawn from our own ranks that travels the untold kilometers and invests enormous hours of their own time to bring it about.
When we proudly say that the largest event of its kind in the world looks set to again break records – from competition entries to demand for our stallholder space and sponsorship interest – we need to look beneath the surface to see why the highly accessible and accommodating regional city of Bendigo becomes the beating heart of our industry every year.
For 2016, there are 22 sub-events under our valuable umbrella and together, they put the broadest possible spotlight on all aspects of our industry for a growing local, regional, national and international audience. Each of these events represents an industry community in itself, but bring them together and we have a powerful, concentrated presence. Our audience is also diversifying, with increased interest in what our food providers and fibre fashion experts are offering.
In light of this, it is incumbent on us to continue to maintain the highest possible standards and present the best of the best year-on-year.
But, this giant jigsaw puzzle doesn't fall into place by itself. It requires nothing short of a small army. Growth calls for greater inputs and more shoulders to the wheel. More competitors and attractions means more infra-structure to accommodate them. It means more valuable sponsors to ensure the funding that fosters that growth. It means more volunteers who turn up from dawn to dusk to donate the incredible range of skills needed to put all the pieces in place.
Under the stewardship of CEO/Secretary, Margot Falconer, we are well on track this year to see all of our stall sites full and we are heading towards a record for new and renewed sponsorship support.
It is the combination of all of these efforts, from the top down, that earns the high public profile and praise we have come to enjoy.
This year, our jewel in the industry's crown will see Australia's largest fibre market in full swing with a huge retail precinct and national Woolcraft competitions; our competition arenas alive with national benchmarking activity across the generations; a celebration of the Corriedale as the feature breed; the Festival of Lamb attracting a more diverse, multi-cultural take on our prime lamb; the Women of Wool lunch providing inspiration; our best and brightest young farmers coming together and; vital components such as shearing and dog trials attracting the crowds. The International Dohne Conference will also be held at this year's show.
Important industry networking and platforming events, such as the Breeders' Dinner, will continue to draw together all of our members and breed societies to build on the strength of a consolidated industry community.
We are also continuing to grow the careers component that will attract young people to the industry, to ensure we have the skills and dedication to meet our future needs.
It is by standing together, with a common aim, that we will ensure our growth and success this year and in the years to come, not only as a key event, but as an industry.
online casino australia at https://aucasinosonline.com/
Tickets
Children under 14 years are FREE
Tour groups of 20 or more - $15.00 per head (Not available online. Group ticketing can be purchased via email to ceo@sheepshow.com or on arrival at the entry gate.)
| | Adults | Pensioners | Students Aged 14+ | Family (2 + 2) | Car Parking |
| --- | --- | --- | --- | --- | --- |
| Per day | $22 | $17 | $17 | $44 | $5 |
| 3 day pass | $55 | $40 | $40 | $88 | $15 |